GENIUS uses a specific 3:1:2 ratio of BCAA to provide more energy, recovery and endurance. Enhanced with nootropics to promote mental sharpness.
GENIUS
Earn 5X the Fitcoin! Purchase this product now and earnFitcoin
SKU:   UPC:
ADVANCED BCAAS + NOOTROPICS FORMULA
➢ ADVANCED 3:1:2 RATIO BCAA
➢ PROMOTES MENTAL SHARPNESS AND ALERTNESS
➢ INCREDIBLE FLAVOURS
LEARN MORE
UNBELIEVABLE NEW FLAVOURS!!!
ANGRY YETI
From the frozen tundra of the north we sought out the cool refreshing flavour of the legendary Angry Yeti!
BLOWFISH HUG
From the darkest depths of Marianas Trench, we captured the unique flavour of the fabled Blowfish Hug.
SNEAKY CLOWN
From the abandoned amusement park, we captured the sweet flavour of the allegorical Sneaky Clown.
MORE TO COME…
We continue to search the far reaches of the globe to bring you more incredible mouth watering flavours!
SUPPLEMENT FACTS
PREMIUM FORMULA
BCAAs 3:1:2
GENIUS is made using a specific ratio of BCAA in order to provide more energy and recovery. Each single scoop of GENIUS contains 7 grams of BCAAs 3:1:2 for maximum results!
NOOTROPICS
Nootropics are substances that help to improve cognitive functions. Each serving of GENIUS contains 900mg of powerful nootropics (Choline, Phenylalanine, DMAE, Lion's Mane, and Theanine) to enhance mental sharpness and promote alertness.
100mg OF CAFFEINE
Each serving of GENIUS also contains 100mg of caffeine to provide some extra energy during physical activity.
HOW TO TAKE UPRISING GENIUS
Recommended dose: Mix one scoop in 235 ml (8 oz) of cold water immediately before consumption. Drink during your workout of any physical activity. Take a few hours before or after taking any other medications or natural health products.
BECAUSE TASTE MATTERS
Revolution Nutrition™ has earned a solid reputation as the best tasting sports supplements on the market today. We always take the time and effort to create flavours that are simply second to none so that each and every one of our consumers is always 100% satisfied.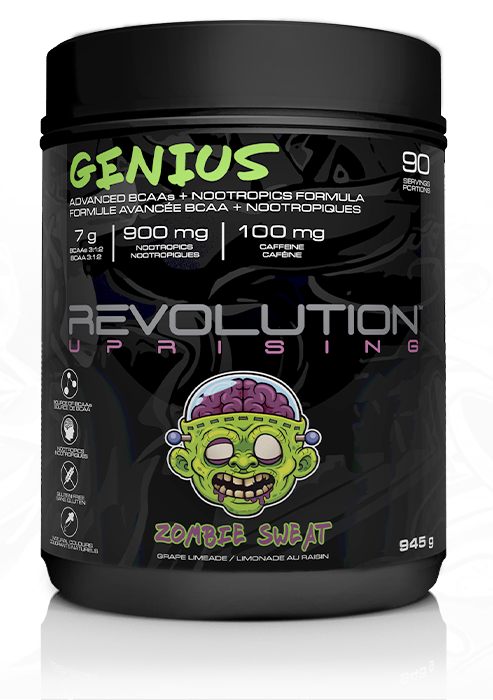 4.84 out of 5 stars
62 Reviews
Let us know what you think...
What others are saying
matthew-houseman

- December 24, 2022

The flavour isn't as good in the Genius version but works well!

Bought this, haven't tried it yet. I'm super excited. Wondering if it's ok (safe) to take this on days you aren't working out?

Clears up my cog fog without an anxious feeling

Recently bought my second jar of this and love it. Just the right amount of caffeine balanced with theanine so you don't get any anxious caffeine feeling. I've been suffering from persistent fatigue and brain fog lately (for reasons unknown yet) and when I take this I know that I have a few hours of boost. I was wondering if it's safe to take twice a day?

bebotte

- February 26, 2022

I bought this out of curiosity. I've been diagnosed with ADHD 2 years ago and I've been on stimulant medication for a year. My meds have been unstable and I was looking for nootropics untill I meet with my doc for new meds since I heard nootropics can help with focus. I've been taking 2 scoops of Genius in the morning with 1 hour appart and it gives me a fair amount of focus. My mind definitely feels sharper and calmer than when I take nothing to help with my symptoms. Angry yeti tastes great. *How many scoops a day can we safely take ?

William Roy-Plante

- February 23, 2022

Protip to anyone who bought the Zombie Sweat flavor because it is cheaper: use a blender and mix in the smallest amount of water you can manage, work from there. To me it tastes horrible if it is too dilute. There is a sweet spot that is fine, but be careful because it is an ordeal to drink if you put in 500ml... I like the idea and the 100mg caffeine dose is just perfect.

clevehartwick

- February 16, 2022

I love the taste of this! I bought the Zombie Sweat flavour (mostly because of the name...yes I am that kind of person...) and I love it. I take one serving of this mid day if I feel sluggish or if I need a boost in focus and I have a serving to use during my workouts. This helps you push through and gives you the mental clarity to stay sharp. This is a great product and I will definitely be trying some other flavours as well. Highly recommended!

Genius is an effective product! Good taste, too.

Benjamin W

- November 22, 2021

Great taste. I have used genius for some weeks now, and it is a good mental booster, adding to my focus throughout the day. It is especially good in the afternoon when you need a boost to work on tasks or get through some cognitive-intensive item. (this review is for the Sneaky Clown Flavouring.)

Mike S

- November 21, 2021

Really like this flavour. Very satisfied with the quality of this product too!