VEGAN SMART uses pea protein isolate, brown rice, and pumpkin proteins to offer the most delicious vegan protein formula. Non-dairy, Gluten Free.
VEGAN SMART
Buy 2 or more at $29.99 each
Earn 3X the Fitcoin! Purchase this product now and earn Fitcoin
SKU:   UPC:
PLANT-BASED VEGAN PROTEIN FORMULA
> BEST TASTING VEGAN PROTEIN ON THE MARKET!
> 3 PLANT-BASED SOURCES OF PROTEIN
> CONTAINS THE FULL SPECTRUM OF AMINO ACIDS
> NATURALLY FLAVOURED
LEARN MORE
PRODUCT DETAILS
THE BEST TASTING VEGAN PROTEIN!
Revolution Uprising is the best tasting vegan protein on the market! In our famous Chocolate Cake flavour and new Cookie Dough Pie!
SUPPLEMENT FACTS
Ingredients:
Vegan Smart Protein Blend (pea protein isolate, brown rice protein, pumpkin protein), Tapioca, Cocoa, Natural flavours, Salt, Guar gum, Stevia, Sucralose.
SUPERIOR FORMULA
3 Plant-based sources of protein
VEGAN SMART is a delicious vegan protein formula that supplies your body with 20 grams of high-quality vegan protein per serving. VEGAN SMART uses three different plant-based protein sources (pea protein isolate, brown rice, and pumpkin proteins – no soy) to offer the most complete vegan formula possible!
Complete Amino Acid Profile
VEGAN SMART contains the full spectrum of amino acids found in traditional whey protein supplements. Each serving of VEGAN SMART naturally contains 3.6 grams of BCAAs and 7.8 grams of EAAs (essential amino acids).
Naturally flavoured
VEGAN SMART is carefully manufactured with the best natural flavouring ingredients to offer the most delicious vegan protein supplement on the market today! What are you waiting for? Go vegan today!
HOW TO TAKE UPRISING VEGAN SMART
Recommended dose: Mix 1 heaping scoop (35g) with 250 ml of cold water. Use a shaker bottle for best results.
BECAUSE TASTE MATTERS
Revolution Nutrition™ has earned a solid reputation as the best tasting sports supplements on the market today. We always take the time and effort to create flavours that are simply second to none so that each and every one of our consumers is always 100% satisfied.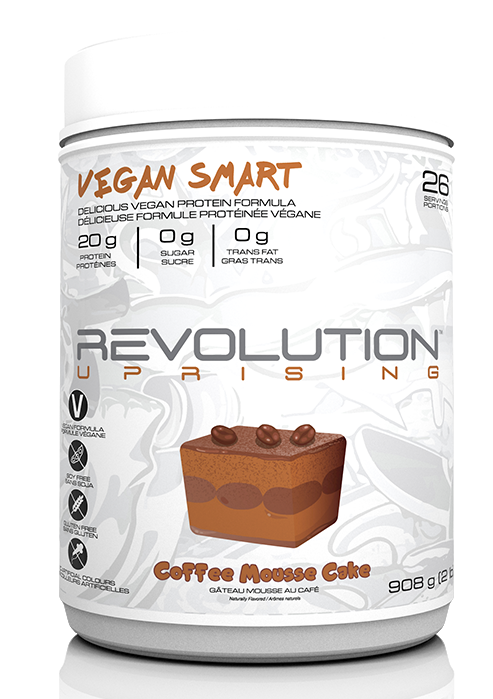 4.78 out of 5 stars
68 Reviews
Let us know what you think...
What others are saying
Best vegan protein on the market

Maia Zarmair

- September 1, 2022

This is the best tasting vegan protein on the market! Their entire Smart line is so good. Best line up!

Where'd the cookie dough pie powder go?

I have been drinking various protein shakes for years. These are by far the best tasting I've ever had (bought cookie dough pie and chocolate cake). Disappointed to see I can't get the cookie dough pie again. Hope you've not removed it permanently

Scott Williams

- April 12, 2022

I'm not even a vegan protein powder fan, and I liked this stuff. I give 5 stars for that. I give 0 stars for discontinuing the cookie dough & chocolate banana bread. These are the 2 best flavors and now they're gone.

Coffee mousse cake, vegan.

Marie Pontini

- February 18, 2022

This protein powder tastes exceptionally good for a vegan one! And coffee mousse taste is on point! A very light taste of the pea protein is perceived but very light and doesn't last in mouth. The coffee taste takes over right away. Not too coffee, not very sugary taste, absolutely a perfect balance and makes easy to drink it often without getting overwhelmed! Quite impressive!

Jessalyn B

- January 19, 2022

I got the cookie dough pie flavour. It tastes good, but not really like cookie dough. Reminds me of the taste of those boxed jello pudding mixes that you make with milk, in between the vanilla and the Chocolate flavour. So still very yummy, just not what I was expecting. Revolution if you see this I hope you guys come out with a vanilla flavour soon!

This is hand down the best tasting vegan protein powder I have ever tried, and believe me I have tried A LOT! Mixes so easily and taste great, definitely my new go to brand for all my supplements!!

Best Vegan protein on the market

I have the cookie dough pie and coffee cake ones on the go right now and they are all good. I like the coffee one the best! Way better than other vegan brands I have tried. I don't find it chalky in a shaker and it mixes well. Best of all vegan friendly

Jasmine McAlister

- October 5, 2021

This is one of the most truly divine vegan protein powders I have had to date. Contrary to some of the other reviews on the Cookie Dough flavour, I thought it was perfection. Sweet, slightly malty and chocolatey, and very smooth shaken up.